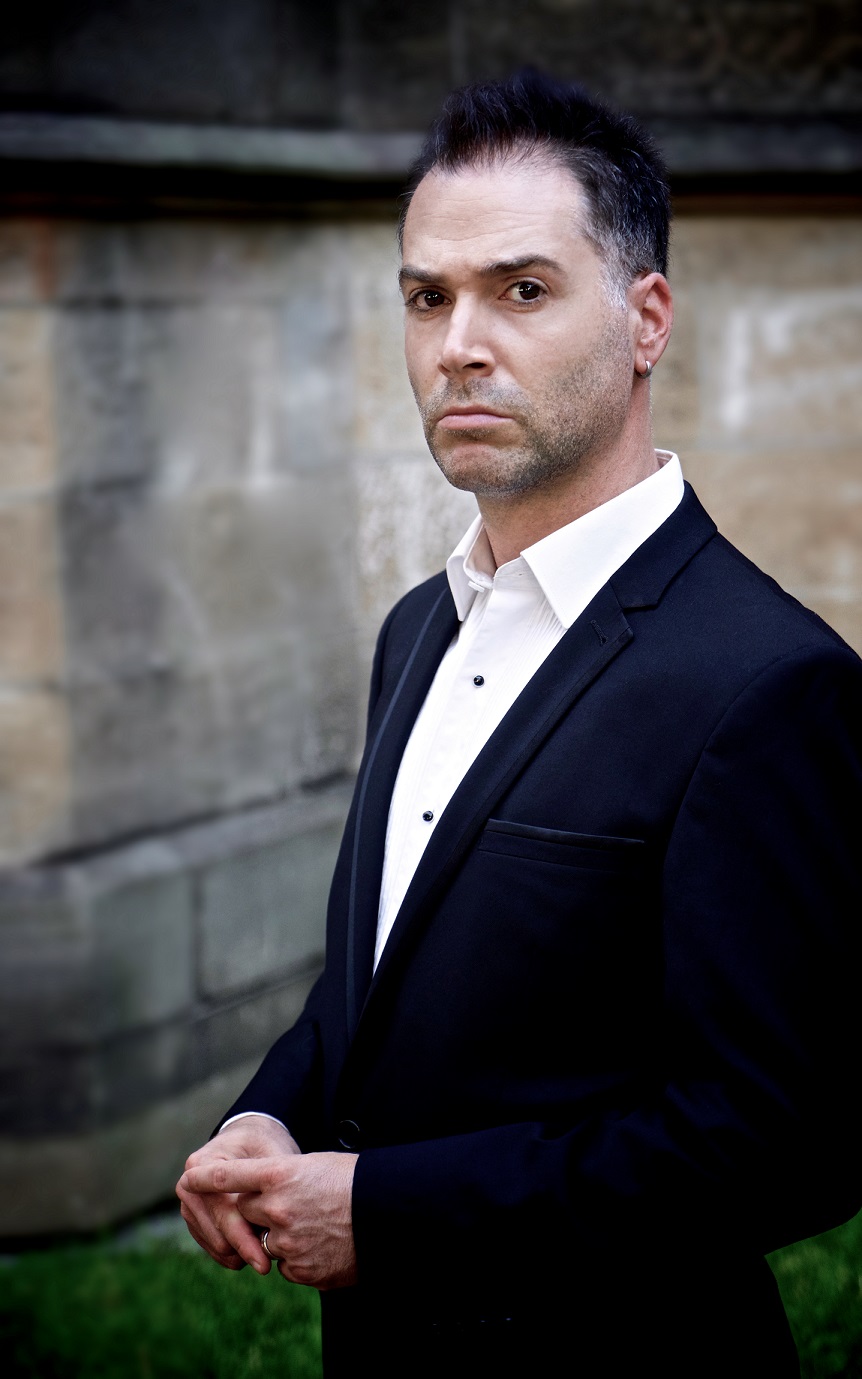 Born in Sydney of Egyptian parents, baritone Simon Lobelson spent his childhood in Brussels and currently resides in Sydney. On a scholarship from the University of Sydney, he obtained first-class honours in his Bachelor of Music degree. Later, whilst studying with John Pringle, he won the Tinkler Award in the 2003 Australian Singing Competition. Awarded a Stanley Picker Scholarship and a Martin Harris Scholarship from London's Royal College of Music, Simon began his postgraduate studies in September 2003 under the tutelage of Roderick Earle. He has sung in public master classes with Sir Thomas Allen, David Syrus, Rudolf Piernay, Roger Vignoles, Gerald Finley, Stephen Varcoe, Sarah Walker, Dame Kiri Te Kanawa, Richard Van Allan, Philip Langridge, Craig Rutenberg and Margaret Honig. He completed his studies at the prestigious Benjamin Britten International Opera School of the Royal College of Music with distinction, and then continued his vocal training with Sir Donald McIntyre. He was a finalist in the 2011 Wagner Society Competition and a Tait Memorial Trust 2011 Thornton Foundation Award recipient. Simon is currently a full-time lecturer in voice and opera at the Sydney Conservatorium of Music, fluent in almost four languages, guest coach for Pinchgut Opera, judge for the Sydney Eisteddfod and Sydney University Palladian Cup and has given masterclasses in both Australia and China. He has worked as a soloist in Australia, the Middle East, New Zealand, Asia, the United Kingdom and Europe. He recently completed his Doctorate entitled Shattering and Extending Vocal Boundaries in Contemporary Opera through the University of Sydney, having been awarded an RTP Commonwealth Government Scholarship, and has been invited to present his research at the 10th International Congress of Vocal Teachers in Vienna in 2022.
Amongst several other concert appearances, Simon was a soloist with the Sydney Symphony Orchestra under Reinbert de Leeuw, in Sofia Gubaidulina's Jetzt immer Schnee, in which "all acquitted themselves with distinction, in particular bass Simon Lobelson" (Opera-opera). He repeated his performance of this in September 2006 for the Lucerne Festival under the direction of Daniel Reuss, after returning from having given recitals in Vienna of music from the First and Second Viennese Schools (which has been commercially recorded). Simon was invited back to the Lucerne Festival in 2009 as guest soloist in Luciano Berio's Sinfonia, under the baton of Pierre Boulez. He returned as guest soloist with the Sydney Symphony Orchestra in 2014 in Mendelssohn's Elijah under Paul McCreesh, and "a fine baritone narrator" (Clive Paget, Limelight) in Paul Stanhope's Jandamarra, and in 2017 as Le Berger in Debussy's Pelléas et Mélisande "with stylish affinity (Sydney Morning Herald). He has also sung the baritone solos in Rameau's Les Grands Motets, Duruflé Requiem, "a Christus graced with graced with presence and singing with firm tone" (Limelight) in Bach's Johannes-Passion, Mass in B Minor, Handel's  Saul (title role), Israel in Egypt, and Beethoven's Ninth Symphony with Sydney Philharmonia Choirs at the Sydney Opera House, Vaughan Williams' Five Tudor Portraits in the Sydney Town Hall, Handel's Messiah with the Darwin Symphony Orchestra and at the LSO St. Lukes in which he "delivered his solos with pulsating warmth, vigour and originality" (Orpheus), Duruflé Requiem and Gounod's Messe Solonelle at St. Johns Smith Square, Haydn's Nelson Mass with the London Mozart Players under Simon Halsey and the Israel Camerata on tour (recorded live and available commercially), a concert tour of Mozart and Handel arias and duets with The Australian Haydn Ensemble, Online Recitals of 20th/21st Century Song Cycles for Sydney Chamber Opera and Phoenix Central Park, Oliver Beer's Superposition for the Sydney Biennale at the Sydney Opera House, Stanford's Songs of the Fleet and Vaughan Williams' A Sea Symphony in The Music Hall Aberdeen, of which Aberdeen Press and Journal reviewed him as "the excellent Australian-born baritone Simon Lobelson …It takes a lot of power and confidence to front several hundred performers but Lobelson was well equipped,".Karen Wimhurst's We Breathe Trees with the Ten Tors Orchestra, Bodhasara for Chronology Arts at the Sydney Seymour Centre, Bach's Ascension Oratorio alongside James Bowman, Schubert's Mass in E flat at Snape Maltings, Haydn's Creation on the Isle of Wight, Goodall's Eternal Light  Requiem in Arundel Cathedral, Beethoven's Mass in C in York Minster, Haydn's Theresienmesse and Mozart's Vesperae with The Australia Ensemble, Haydn's The Seasons, Fauré's Requiem, Orff's Carmina Burana, Mozart's Requiem and Solemn Vespers with the Liverpool Sinfonia, Missa Brevis in D minor and Great Mass in C minor in Birmingham Symphony Hall and Durham Cathedral, Puccini's Messa di Gloria, Schubert's Stabat Mater, Zelenka's Missa dei Patris, Beethoven's Cantata on the Death of Emperor Joseph, CPE Bach's Magnificat, Heinichen's Missa No.9, Saint-Säens Requiem, Brahms' Ein Deutsches Requiem in Brecon Cathedral, Bach's Christmas Oratorio in Sheffield Cathedral, CPE Bach's Magnificat, Haydn's Missa in Tempore Belli, Rossini's Petite Messe Solennelle, Vaughan Williams' Dona nobis pacem, Charpentier's Messe de Minuit and Magnificat, Shostakovich's Rayok, Vaughan Williams' Fantasia on Christmas Carols at The Sydney Opera House and St. Martin-in-the-Fields and Bach's Johannes-Passion for the Brighton Festival, with Sydney Philharmonia Choirs at the Sydney Opera House, at St. Mary's Cathedral Sydney and with the Sydney University Graduate Choir, as well as having performed extensively around China as guest soloist with the Kent Sinfonia and Heidelburg Choral Society, and in numerous Opera Galas there. His recent recital of Australian artsong for the Sydney Resonance Recital Series attracted much praise; "Sydney based Simon Lobelson has a full, round baritone with lots of drama at the big end. He is enjoying an illustrious international career and we are lucky to have him for a small scale recital . . . My favourite was The Home for the Appalled [to which] Lobelson's dramatic baritone was ideally suited." He most recently appeared in Peter Maxwell Davies' Eight Songs for a Mad King with the Verbrugghen Ensemble, as "a magnificent King George . . . with an endlessly inventive repertoire of noises" (Harriet Cunnigham, A Cunning Blog). And Clive Paget of Limelight magazine hailed the performance as "truly remarkable interpretation (one of the finest pieces of musical theatre acting I've seen this year) . . . his voice swung miraculously from a thing of shreds and patches to a resonant, raging baritone . . . Lobelson's brilliantly detailed reading was as close to what Maxwell Davies demands as you could hope to hear, a stellar performance of one of music theatre's most taxing scores, matched by a dramatic assumption of the role that equally impressed. Whether muttering to the flautist who hopped birdlike across the stage, addressing Lear-like a passing fly, or hearing voices in his head, Lobelson was deep inside every moment." Simon has also sung with some of England and Australia's finest ensembles, including The Song Company, ACO Voices, Cantillation, BBC Singers and London Voices.
Simon has performed over 85 operatic roles, and has worked with such renowned directors as Jean-Claude Auvray, Patrick Nolan, Ian Judge, John Copley, Bruno Ravella, Melly Still, Cheryl Barker and Jude Kelly. He was nominated for a 2019 Helpmann Award for his work with Opera Australia. Some operatic appearances include Doctor Falke in Die Fledermaus "who fielded beautifully rounded tone and phrased extremely elegantly" (Rodney Milnes, Opera), Don Alfonso in Mozart's Così fan tutte, L'Horloge Comtoise and Le Chat in Ravel's L'Enfant et le Sortilèges, Ramiro in Ravel's L'Heure espagnole, Junius in Britten's The Rape of Lucretia and Geôlier in Dialogues des Carmélites for the Benjamin Britten International Opera School, Osmin in Mozart's Zaide at Sadlers Wells and Buxton Opera Festival for The Classical Opera Company that showed "real ability with the text. Not unconnectedly [whose] singing was the most expressive" (George Hall, Opera), Prow and Fiddler in Ludd and Isis for the Royal Opera House Covent Garden, Germont in La Traviata and Ford in Verdi's Falstaff "of welcome fire" (Robert Thicknesse, Opera Now) for The Iford Festival, Creonte in Haydn's Orfeo ed Euridice under Richard Bonynge for the Centenary of the Sydney Conservatorium of Music, The Protector in George Benjamin's Written on Skin (excerpt) for Opera Queensland, a "suave and imposing" (Louise Lewis, British Theatre Guide) Nick Shadow in Stravinsky's The Rake's Progress "who exuded subtle menace" (Yehuda Shapiro, Opera) for England's Bury Court Opera, a Michele "of searing intensity" (Yehuda Shapiro, Opera) in Puccini's Il Tabarro for Grimeborn Festival, Sciarrone in Puccini's Tosca at St. John's Smith Square, "an intensely dramatic, … totally assured portrayal of the evil Scarpia" (Peter Williams, Napier Herald), Sharpless in Madama Butterfly at the Independant Theatre, Amfortas in Parsifal ("darkly bearded, showing why he is in such demand with his power and presence," Robert Henderson, Canberra International Music Festival) and Mendaña in Peter Sculthorpe's Great South Land (broadcast live) for the Canberra International Music Festival, Bass in Pascal Dusapin's Passion and Giambattista/Archbishop "of firm smoothness" (Peter McCallum, Sydney Morning Herald) and "dangerous strength" (Keith Gallasch, Realtime Arts) in Mary Finsterer's Biographica for the Sydney Festival and Antarctica with Asko Schönberg Ensemble and Sydney Chamber Opera for the Holland Festival and Sydney Festival, Luke Styles' Wakening Shadows for Sydney Chamber Opera, the Australian premiere of Britten's Owen Wingrave as a "consiliatory and lyrical" Spencer Coyle for Sydney Chamber Opera (Peter McCallum, Sydney Morning Herald), the "powerful, charismatic and dramatic" (Lynne Lancaster, Sydney Arts Guide), "wonderful sonorous dignity, particularly as Oscar's father … his rich baritone soaring effortlessly in frequent, high-lying phrases" (Michael Halliwell, Australian Book Review), "warmth of voice" (Peter McCallum, Sydney Morning Herald) and "his unwavering vocal authority" (Justine Nguyen, Limelight) in Elliott Gyger's 2020 Art Music Award-winning Oscar and Lucinda, Apra Amcos Award-winning Breaking Glass for Sydney Chamber Opera, "wild, implaccable and impressive" (Peter McCallum, Sydney Morning Herald) title role of "commanding, luxuriant baritone" (Lloyd Bradford-Syke, Daily Review) and "strong, warm baritone" (Clive Paget, Limelight) in Michael Smetanin's Mayakovsky also for Sydney Chamber Opera. One last review of his performance was "Another strength is Simon Lobelson's muscular performance as the eponymous poet. Lobelson's portrayal oscillates between nonchalant swagger and explosive intensity; he inhabits every inch of the stage with charismatic gravity; and his occasionally thunderous baritone does justice to a poet whose finest work is titled At the Top of my Voice" (Mark Steven, The Conversation). His Theophilus in Elliott Gyger's Oscar and Lucinda also for Sydney Chamber Opera was praised for "unwavering vocal authority" (Justine Nguyen, Limelight), "warmth of voice" (Peter McCallum, Sydney Morning Herald) and "wonderful sonorous dignity…his rich baritone soaring effortlessly in frequent, high-lying phrases" (Michael Halliwell, Australian Book Review). "He was "luxury casting" as Claudio in Berlioz's Béatrice et Benedict at Cadogan Hall (Jonathan Burton, Words and Music), Alberich (cover) in Wagner's Siegfried for Longborough Festival Opera, The Bad Man/Vast Man/The One in Belling's Victory Over the Sun for the 2016 Sydney Biennale, Junius in The Rape of Lucretia for Sydney Chamber Opera, Mittenhofer (cover) in Henze's Elegy for Young Lovers and Rambo in John Adams' Death of Klinghoffer (cover) for English National Opera, a "wily, personable Figaro, who delivered his self-promoting aria with many a flourish and musicianship that gave due regard to words and music" (Margaret Davies, Opera) in The Barber of Seville for Swansea City Opera and The Garden Opera Company, Alberich (cover) in Siegfried, the title role in Rigoletto in which he was "truly exceptional" (Carolyn Kopplin, UK Theatre Magazine) and "sang like a baritone angel" (Ann Bawtree, The Public Reviews) and Escamillo in Carmen for Opera Novella, The Father (cover) in Kurt Weill's The Seven Deadly Sins for The Royal Opera House Covent Garden, Severino in Mario Ferraro's The Moonflower for Tete a tete Opera, Diaghilev in Louis Mander's The Clown of God for The Gloucester Group, New Year's Day Galas and Opera Galas with the Kent Sinfonia for the OLA Asia Group all over China and later with the Heidelberg Choral Society, Starveling in Britten's A Midsummer Night's Dream for Longborough Festival Opera, "a saturnine" (Clive Paget, Limelight), "somber, slow-moving, threatening" (Peter McCallum, Sydney Morning Herald) Underground Man in Jack Symonds' Notes from Underground for Sydney Chamber Opera, Quinalt in Cilea's Adriana Lecouvreur at the Queen Elizabeth Hall alongside Nelly Miriciou and Rosalind Plowright, Aeneas (cover) in Purcell's After Dido for English National Opera, Joabel in Charpentier's David et Jonathas for Pinchgut Opera (released on ABC Classics), Mr. Easter/Mr. Jones in an Evening Standard Award-winning production of Weill's Street Scene at the Young Vic and Buxton Opera Festival, Masetto in Don Giovanni for The Opera Project and English Touring Opera, Nottingham in Donizetti's Roberto Devereux in Spain, Don Alfonso for British Youth Opera, Young Man in Cheatham's multi-award winning Pecan Summer at the Sydney Opera House, The Prig in Elizabeth Maconchy's The Sofa at Sadlers Wells (released commercially on Chandos), Plunkett in Martha with Haddo House Opera, Marcello in La Bohème for British Youth Opera in Italy and France, L'Horloge Comtoise and Le Chat in L'Enfant et les Sortilèges for the European Opera Centre in Greece and Cyprus, the Drunken Poet in Purcell's The Fairy Queen with Pinchgut Opera (which he has recorded for ABC Classics), of which Gramophone magazine wrote "Pinchgut Opera play to the gallery more in matters of theatrical impact…. Such is the case with the Drunken Poet scene which is a brilliant affair (a testament to bass Simon Lobelson's deft communicative skills)," and the world premiere of Errollyn Wallen's Another America: Fire – a collaboration between Push, ROH2 at the Royal Opera House and English National Opera – and workshops on Langers' The Lion's Face as The Scientist for the Opera Group, as Filip Filipovisj on Raskatov's A Dog's Heart and Die Zauberflöte for The Netherlands Opera and Complicité, on Luke Bedford's Paradise Lost for the Aldeburgh Festival and Opera Group, and on Turnage's Anna Nicole Smith for the Royal Opera House Covent Garden.  Opera Now magazine hailed him as "an outstanding Junius . . . a beckoning future" while of the same role Opera called him "a vigorous baritone with a watchful, Iago-like depiction of the character who originates rather than enacts the crime." Upon reprising the role for Sydney Chamber Opera, Dark Mofo and Victorian Opera in 2017/18, he displayed "expressive darkness and well-moulded sound" (Peter McCallum, Sydney Morning Herald), "Ringing tone" (Angus McPherson, Limelight), and "a robust baritone" (David Larkin, Backtrack), while Deen Hamaker in Sounds Like Sydney wrote "Simon Lobelson was masterful as the jealous and raging Junius. His wonderful baritone voice had everything and more that could be needed in the role. Rugged and masculine yet his hurt at being betrayed by his wife's infidelity is so palpable in his anguished moments." Opera Now also wrote that "Better yet was Simon Lobelson's Doctor Falke: a classy performance, his baritone finessed and honed (like a young Gidon Saks) – and a dab hand as an actor too," and Opera also wrote [of his performances in Greece of L'Enfant et les Sortilèges] that "Simon Lobelson's warm, centred baritone thrillingly threw off the frenzied plaints of the Grandfather Clock, and gave a seductive edge to his sinuous feline Lothario."
A champion of contemporary music, Lobelson won superlative press honours for his Opera Australia debut in 2018 as the main role of Gregor Samsa in Brian Howard's Metamorphosis in both Sydney and Melbourne, along with a prestigious Helpmann Award nomination for Best Male Lead in an Opera. Some wrote: "The role of Gregor requires a fit and athletic singer to cope with the physical demands. Singing with full-voiced strength across his range, baritone Simon Lobelson brilliantly depicts Gregor's gradual physical adjustment to his insect-like transformation." (Murray Black, The Australian), "Simon Lobelson's performance is a vocal, theatrical and athletic tour de force as he projects a clean, well-focused and rounded sound" (Peter McCallum, Sydney Morning Herald),"Baritone Simon Lobelson is magically agile in both voice and movement" (Martin Portus, Stage Whispers), "Simon Lobelson as Gregor is amazingly able to sing with full vitality and range of expression, while at time performing the insect at a level we might expect of professional circus skills- climbing the walls, swinging upside down from a light fitting, rolling on the floor while flailing limbs in the air- his performance here is astonishing." (Peter Hurley, Classic Melbourne, Metamorphosis), "With astonishing physicality and a no less persuasive vocal performance (even when hanging upside down), Lobelson was tremendously affecting" (Deborah Jones, Opera), "His is a highly athletic performance, restlessly clambering over, around, and up and intricate scaffolding set, simultaneously displaying a voice of burnished bronze that projected well…. His diction was unwaveringly clear and precise, and there were many moments of poignancy and pathos: a performance that will long linger in the memory." (Michael Halliwell, Australian Book Review, Metamorphosis), "Lobelson's dark, emotive baritone and detailed physicality, from arms and legs flailing initially to scurrying, crawling movement, is very visceral and works a great for Gregor" (Jo Litson, Limelight), "Simon Lobelson gives an extraordinary performance as Gregor, singing with steely, focused power and expending unbridled physical energy in the highly demanding role" (Simon Parris, Man in Chair), "Above all, credit goes to baritone Simon Lobelson in his tour de force as the unfortunate Gregor, who wakes up one day as a giant insect. Part gymnast- crawling across the roof of the set, swinging and singing upside down from the chandelier – part actor and constantly engaged singer, he meets every challenge with panache." (Barney Zwartz, Sydney Morning Herald, Metamorphosis), and "Buff baritone Simon Lobelson invests incredible athleticism and sensitivity… even when hanging upside down for minutes from an overhead light fitting, Lobelson maintains exhilarating power, balance, conviction and burnished quality of voice" (Paul Selar, Opera Chaser).
His other stage repertoire in Australia and the UK has included the title roles in Le Nozze di Figaro and Britten's Noye's Fludde, Guglielmo in Così fan tutte, Dancaïro in Carmen, Pirate King in the Pirates of Penzance, Wilfrid Shadbolt in The Yeomen of the Guard, Bunthorne in Patience, King Hildebrand in Princess Ida, Macheath in The Beggar's Opera, Indian Boy in Purcell's The Indian Queen, Tiresias in Richard Gill's Oedipus and Papageno in The Magic Flute.  A review of the latter in Opera~opera stated that "Simon Lobelson's musicality was made manifest as soon as he opened his mouth and he continued to reaffirm that snap judgement all night . . . obviously, too, he is one of those guys who loves being on stage; a born performer, radiating a charm which is all but impossible to resist . . . an ebullient, unselfconscious stage presence coupled with his natural singing style." (David Gyger) 
His recordings include The Sofa for Chandos, Haydn's Nelson Mass and Nicolai Mass for Israel Camerata, the songs of Henry Handel Richardson for Toccata Classics, Purcell's The Fairy Queen and Charpentier's David et Jonathas for ABC Classics; broadcasts for Classic FM, Fine Music FM, Foxtel and BBC Radio 3; on soundtracks to exhibitions at both the Australian and British Museums and NSW State Archives, and on the inflight soundtrack for British Airways and Qantas flights.